Our Mission and History
Mission Statement
Our mission is to develop children's enthusiasm for science, and to develop the higher order thinking and problem solving skills necessary for both academic and real world success in socioeconomically disadvantaged youth. Rock-it Science provides this through a combination of storytelling and inquiry-based hands-on experiments.
Accomplishments
Rock-It Science has over 25 years of achievement in sparking young people's enthusiasm and ability to learn science successfully. Since 1987, Rock-It Science has:
Developed a unique teaching methodology that combines storytelling with hands-on science experiments.
Served over 100,000 kindergarten through middle school children.
Created more than 200 highly tested and successful experiments.
Brought science directly to the kids at Boys and Girls Clubs, scouting groups and YMCAs with our mobile science lab.
Mentored hundreds of elementary and middle school teachers in our unique science instruction techniques.
Conducted a NASA-sponsored program at Moffett Field that served 10,000 kids each year.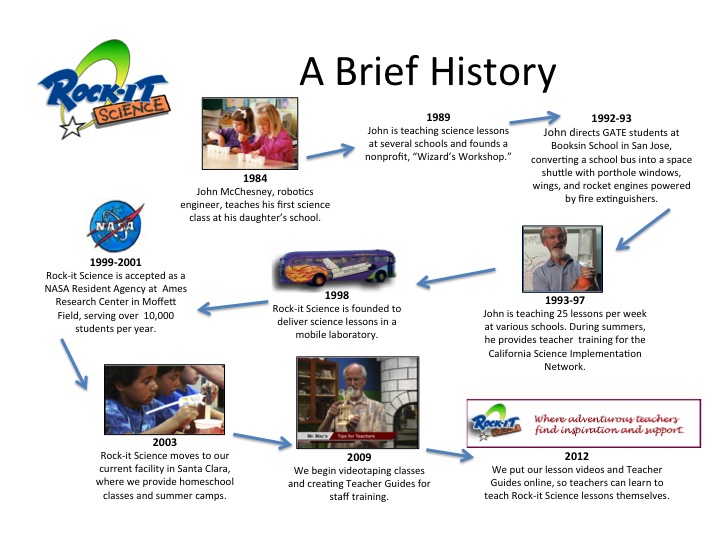 History of Rock-it Science
Rock-it Science began in the wonderful imagination of a robotics engineer named John McChesney, known to his many students as "Mr. Mac."
As a child, John loved to experiment with everything. The old saying, "give a small boy a hammer and the whole world becomes a nail" was never truer than with John. Everything had to be tested to see if it would burn, break, bounce, dissolve, melt, fly, cut, or have other magical properties.
In 1984, when his daughter needed a science project for second grade, John had an excuse to introduce his kids to the joys of his childhood, and share all kinds of experiments with them.
In 1986, John began developing an elaborate experiment for his daughter's entire class. He created a videotaped story about all the aspects of density, complete with colorful cartoon characters and an experiment involving nine cubes made of materials ranging in density from foam to lead.
While he was working on this, a college professor told him that children below the 3rd grade could not grasp the concept of density since it involved two variables: mass and volume. So John decided to test this experiment with kindergarten through 3rd grade kids to see if it was true. Surprisingly, they proved it isn't -- they got the concept.
By the fall of 1989, John had developed 14 lessons and was giving free science lessons for all the teachers in his children's school. He had also started giving lessons in other schools for a very minimal fee ($20 per lesson). To further this work, John founded a nonprofit organization called Wizard's Workshop, Inc.
In 1990, John started publishing a newsletter detailing the lessons and stories that had proven to be successful. This was published monthly for four years. As a result, the Wizard's Workshop ended up with 80 lessons completely documented by the end of 1993.
In 1991 John started giving lessons for home school students. This turned out to be one of the most delightful projects ever because it provided an opportunity to try out all kinds of new ideas on small groups of children of all ages.
In 1992 and 1993, Booksin School in San Jose asked John to help with a project the parents had started. Working with GATE students after school, under John's guidance, the parents and children converted a school bus into a space shuttle, complete with porthole windows, wings, and rocket engines powered by fire extinguishers.
The second year, they created a moon colony out on the field, and the students made space suits and a habitat suitable for their survival on the moon.
From 1993 through 1997, John kept increasing the number of lessons given until he was conducting an average of 25 lessons per week on three different subjects each day at three different schools. During summers he teamed up with two district-level trainers to provide teacher training for the California Science Implementation Network.
In 1998 John and a friend co-founded Rock-it Science to deliver science lessons in a mobile laboratory.
From 1999 through 2001, Rock-it Science was accepted as a NASA Resident Agency at Ames Research Center in Moffett Field. With space to park the mobile lab and warehouse space for the experiment materials, Rock-it Science was in the position to begin receiving funding for program expansion.
After the events of September 11, 2001, non-government agencies could no longer use the facilities at Moffett Field, so Rock-it Science moved out and started looking for warehouse space.
In March 2003, a suitable space was found in Santa Clara and transformed into the permanent home for Rock-it Science. It contains offices, a large storage area, John's laboratory, which is also a classroom, and a multi-purpose room.
In 2009, Rock-it Science began videotaping classes in order to help train new instructors. Almost 100 of these lessons have been edited and transcribed, with Teacher Guides written for them.
In 2012, Rock-it Science expanded its outreach through an online Teacher Community. Here, teachers anywhere in the world can watch the lesson videos for free, download the Teacher Guides, and learn how to teach Rock-it Science lessons themselves.
In his laboratory in Santa Clara, surrounded by fantastic gadgets and exotic equipment, John McChesney continues to develop new experiments and test-drive them with his home school classes. Once they're thoroughly tested, he and his staff take them on the road, so children at schools throughout the South Bay Area can experience Rock-it Science.