What Nobody Knows
Some of our homeschool students have accomplished impressive things outside of Rock-it Science. On this page, you'll get to see what they're up to that nobody knows about.
Curriculum Description
Weekly Class Schedule
Classes by Age Group
Tuition Rates
Our Facility
Our Method of Teaching
How to Register
Calendar of Classes and Camps
Join our Email List
Frequently Asked Questions
Rock-it Science student Brody Thomas publishes his first Novel!
Sixteen-year-old homeschooler Brody Thomas has created a wonderful adventure story set in the world of Minecraft. With the use of CreateSpace and Kindle, Brody was able to self-publish his work, and it is now available on Amazon as both a paperback and e-book.
Brody has been a Rock-it Science student for many years. Listening to Mr. Mac's intricate stories has surely helped Brody develop his ability to weave his characters into complex situations and adventures through the telling of his tale.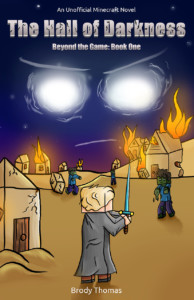 Former homeschooler and Rock-it Science student Toby Berman created the graphics for the cover. At just twelve years old, Toby is a talented illustrator and painter. You can find more of Toby's artwork on his website at TRBGraphics.com
Both Minecraft enthusiasts and non-gamers alike will enjoy "The Hall of Darkness." Please read this fun adventure and post your review on Amazon!
You can find the boys' book here. https://www.amzn.com/1545471282
Thank you for supporting these young artists!